Made in America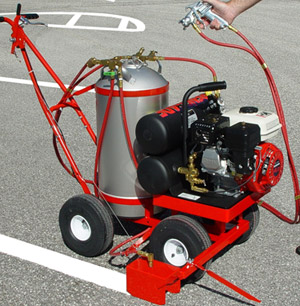 Learn More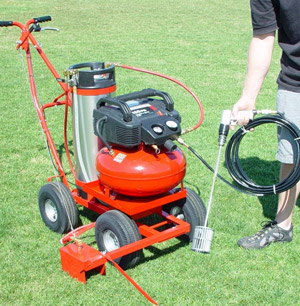 Learn More
Paint Striping Machines
Painting professional lines on parking lots, grass, or turf requires proper preparation, correct measurements, painting supplies, and a quality line striping machine. Using the right equipment is essential for creating fresh, straight lines for your particular project. Your choice of striping equipment is key for speed, efficiency, and professional results.
Trusco Manufacturing is home to Trueline, the world's most reliable pavement, concrete, grass, and turf paint striping machines. We serve a diverse range of industries with our extensive product line of Trueline Stripers. Our selection of line striping equipment includes a wide array of models to best suit the needs of our customers. No matter the job, painting is a dream with Trusco's easy-to-use line marking machines. Browse our website today, or learn more about Trueline's unique beneficial features below.
OUTSTANDING DESIGN FEATURES:
Easy to operate...
One pressure adjustment
Creates professional lines with a few simple instructions
Lightweight and easy to maneuver
4 large 10" pneumatic wheels (except model 20)
Built to last a lifetime...
Low maintenance
Years of reliable service even through the toughest workloads
All stainless steel tanks brass fittings
Dual spray tip sprays the turf/grass from two different directions to cover the blades evenly
Enclosed spray box...
Always gives you an exact 4" line width that NEVER varies
Box height is adjustable for skimming across the top of grass and ensuring sharp, uniform edges
NO overspray, even on the windiest of days
Stripe lines as fast as you can walk
Simple and quick clean-up in about 10 minutes