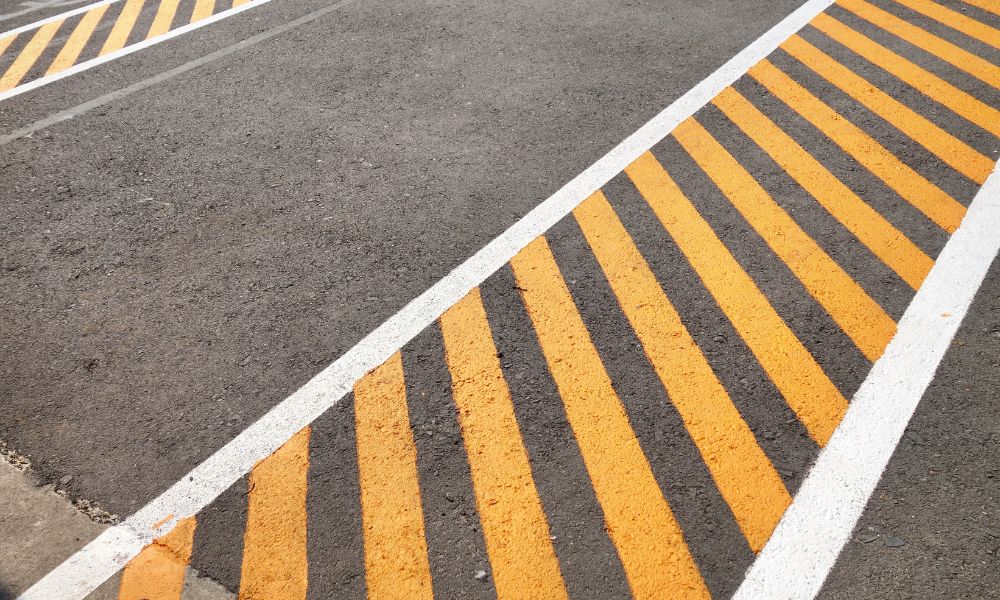 Have you been thinking or discussing with others about starting a small business? Are you looking for suitable roads to journey down to earn extra money full-time or part-time? As famed entrepreneur Walt Disney once said, "The way to get started is to quit talking and start doing."
When you're aiming to start a new business as an independent contractor, you need to consider what type of company has the potential to become valuably profitable without too much upfront risk or investment. For this reason, parking lot striping can be one of the best small businesses to invest in at a low cost for high-profit margins. And the cherry on top? You have the flexibility of choosing your own hours and lining up as many jobs as desired throughout the year.
Ready to stop talking and start doing? We've compiled a general guide outlining the basic steps to follow to kickstart a successful striping career or side hustle. Here is a closer look at how to start a parking lot striping business.
The Basics of Professional Line Striping
This category of line striping refers to the professional painting of clear markings on pavement for commercial parking areas. Contractors often use striping machines on roads and other applications, such as turf athletic fields or industrial warehouses. However, parking lots are a good focus area for a striping startup. Every business, organization, building, or facility under the sun has a parking lot for the vehicles of employees, clients, or customers, and they will always need to keep their lines fresh and clean.
With the right approach and equipment, this trade is relatively straightforward. The task also does not require tremendous skill. Simply learn the basics of machine operation and approach each job with the appropriate technique and workflow. You'll also need to consider the layout and dimensions of the parking lot closely for safety and efficiency. Note that there are legal standards to follow regarding paint color, text, symbols, and the size of each parking space.
Consider Market Competition and Seasonality
When considering how to start a parking lot striping business, ensure you keep the local market in mind. Is there a lot of competition in your area? Will you need to develop an appealing marketing and pricing strategy to stand out to clients? Consider seasonality also before diving right in. Those located in warmer climates should expect steady business year-round. Conversely, wintertime does not provide favorable conditions for parking lot striping or maintenance.
Know Your Schedule and Pricing Flexibility
After evaluating the local market, determine what pricing and scheduling work best. This part of your business strategy depends on your needs alongside your target customers' needs. You'll need to keep your pricing for services consistent and your schedule flexible to stay competitive. If you do not have as much time on your hands personally, you may need to bring in a partner or extra help to meet the scope of work and generate substantial profit.
Choose Company Structure and Name
When beginning any public-facing business, you must decide on the type of business you want to establish. The most common options include partnership, sole proprietorship, or limited liability companies. The former is easier to set up, but the latter is beneficial for asset protection. Many people start small striping businesses as sole proprietorships. The choice is up to preference and tax considerations.
In like manner, you must choose a name for your new striping company that is unique, memorable, businesslike, and clearly states your line of work. Avoid long names or similar names used by other businesses locally and nationally. Then, you can use your one-of-a-kind company name for an online website and various social media accounts.
Outline How To Market Your Business
After choosing the structure and name of your striping company, now is prime time to begin thinking about promotion. An innovative marketing strategy is essential for creating a line of customers and steady cash flow. What type of marketing can offer a good return for your time and money? You can try campaigns both in your local market and the digital landscape.
Target Your Customer Base
Promoting your line striping business to your target customer can be done online and offline. For example, seek out local areas with parking lots needing striping and restriping and reach out to those companies for a bid. Or, you can hand out fliers with details about company services and pricing. You can also focus on digital marketing through social media platforms or paid advertising. Don't forget about the power of a good website when starting your venture.
Invest in High-Quality Equipment
Fortunately, line-striping work is straightforward, so the last piece to complete the puzzle is simply purchasing equipment for the job. You need suitable gear to ensure the job is done right the first time— and every time. The basics include parking lot stripers, paint, stencils, and laser line guides to create a steady, professional line.
You can find a wide range of machinery and equipment available today, so ensure you invest in striping machines that are cost-effective, dependable, and efficient. Consider machine pricing, transportation, and storage ability when shopping around. During the decision-making process, we advise reading reviews and watching how-to videos. You need to ensure that you'll be comfortable using the equipment for any job or task. Knowledge about the machine's operations helps determine the best fit for your business and the scope of your parking lot striping work.
Remember that a good striping machine has good design features. Choose one from a reputable source that's innovatively robust, built-to-last, and easy to operate. A better-quality machine will ensure long-lasting service for years to come. If you use and maintain high-grade machinery correctly, the opportunities for this lucrative business venture are endless.
Trueline Stripers: A Golden Experience
Trusco Manufacturing is here with striping industry knowledge and expertise. We are a proud supplier of top-notch paint striping equipment. Our high-rated collection of Trueline Striper models is known throughout the industry for continued user-friendliness and reliability.
With over fifty years of experience, you can trust our family-operated business to help you start your own with a high-production parking lot striping machine. Browse our line of products for pavement or asphalt line striping today, or give our customer service team a call toll-free at 1-800-327-8859 with any questions.